Table of contents
Questions this post will answer
Why do you need to do current affairs?
How many months of current affairs do you need for UPSC?
What to cover in current affairs for UPSC?
How to make revising current affairs easier?
Let's get started!
---
Why do you need to do CA?
Mentioned in the syllabus.
The most obvious part. If it's mentioned in the syllabus you need to be covering it in depth. But the syllabus doesn't mention a time limit.
Prelims focused.
S&T and environment, apart from straight up CA related questions, are always current heavy. And with new trends like sports and awards being taken up, things are getting interesting.
Mains answer enrichment.
You can use CA examples to get those extra few marks. Nothing shows the examiner that you have understood the demands of the question like explaining with current examples.
UPSC HATES coaching institutes.
Focusing more on CA ensures that everyone has as equal a playing field as possible since everyone has equal access to the news.
That's as much as I can stress the role of current affairs in UPSC CSE preparation.
How many months of current affairs are enough?
Enough is subjective.
I may be able to get by with doing only 6 months of current affairs (CA) and someone else may be doing 2 years worth of them. What you need to understand is the objective behind doing current affairs.
And if you've understood that from the 1st section, you can safely bet that if you do 12 MONTHS of current affairs you will be good to go.
Why 12 months?
You don't gain a lot by going for 24 months or further. Because 12 months is a long enough period that anything of important will be repeated in the last 1 year.
And these 12 months precede Prelims.
For example, if you're preparing for UPSC CSE 2023 which will be held on 28th May 2023, then doing Current Affairs from June 2022 to May 2023 is good enough. But if you make it through to Mains, then you'll need to do Jun to August 2023 also. And if you make it to the interview you'll need to do September 2023 to Jan 2024 also.
Simply put, to begin with if you can do 12 months worth of current affairs, you will be in a good position to strengthen that going forward.
Will that be enough?
There will still be a lot of questions that you won't be able to answer.
This is the uncertain part of the exam. No matter how many years worth of CA you cover, there will always be 4–5 questions that seem out of this world. Learn to make your peace with the fact that with UPSC CSE nothing is ever ENOUGH!
So, enough is a subjective thing. Do what gives you peace.
---
Prelims 360 Course + Mentorship
After this course, you will be able to
Revision of the entire Prelims 2023 syllabus - both GS and CSAT
Personalised guidance through mentor sessions
Get all your doubts solved in doubt sessions
Practice daily MCQs to solidify your preparation
Prelims Mock Tests - to test your preparation
CSAT workbook will ensure that you clear the hurdle of CSAT
Cover important current affairs through weekly sessions
---
How to cover current affairs?
Time to address the elephant in the room.
There are 3 ways that you can use for covering current affairs during UPSC preparation.
Making notes from newspapers.
Daily current affairs summary notes.
Monthly magazines + revision.
What is common to all 3 methods - REVISION.
Till you don't revise these notes 3-4 times, they are pretty much useless from an exam point of view.
1. Making Newspaper Notes
This method has the maximum return on effort invested. But if you're beginning UPSC preparation, this is NOT for you. Because as a beginner we often feel that EVERYTHING IS IMPORTANT! Which isn't the case, but we don't know any better.
So let's leave this one for a later post.
2. Daily CA Summary Notes
If you're reading Daily CA from some popular websites, that's great. But till the time you're not noting them or organising them for quick revision, it will not help you during the exam. And if you're going to be organising things on a daily basis anyhow, I'd suggest you do it from newspapers instead. (After getting a sense of what's important)
3. Making Notes from CA Magazines
Here the curation for what's important has already been done for you by some institute. And you simply have to read and revise the content multiple times. But even that can be a hassle.
I used this method in my UPSC attempts to great success. Here's how I made short notes from month magazines.
Monthly Magazine Short Notes Example
Here's how I made short notes during my UPSC attempts.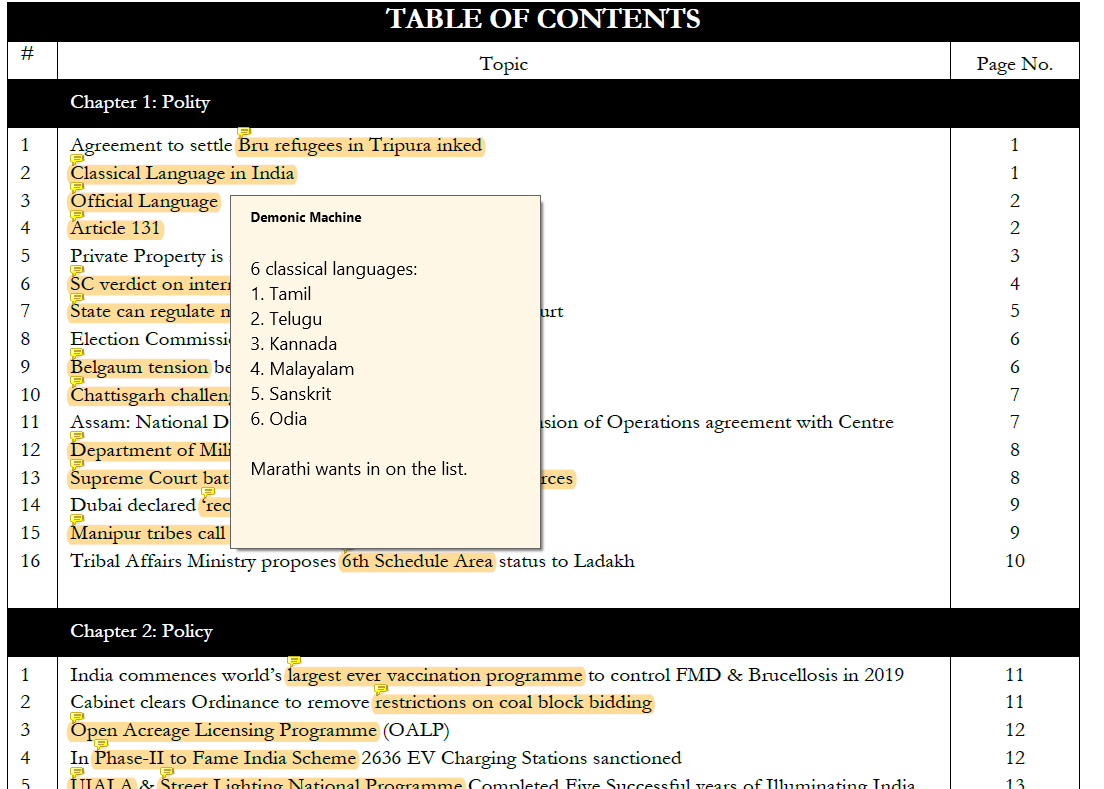 I created a sticky note right inside the monthly current affairs magazine index ( magazine from Forum IAS ).
Here's the file
You should be able to see the notes in Adobe pdf reader.
---
How to make revision easier?
This method helped me keep track of how much current affairs I had done and also allowed me to revise them quickly. Because I did not need to read the entire 100 pages of the month again.
By making these snippets in the index itself, I removed the need to go back to the rest of the monthly CA booklet ( I used the ones from ForumIAS ).
All I had to do was revise these 3 pages again.
Just the short notes in the Index.
---
Your Turn
If you are preparing for UPSC CSE, it is YOUR responsibility to make your preparation easier. We can only help.
---
Previous Post