Syllabus Relevance: UPSC GS 3 - Inclusive Growth and issues arising from it.
Definition
Inclusive growth is economic growth that is distributed fairly across society and creates opportunities for all. (OECD)
Dimensions of Inclusive Growth: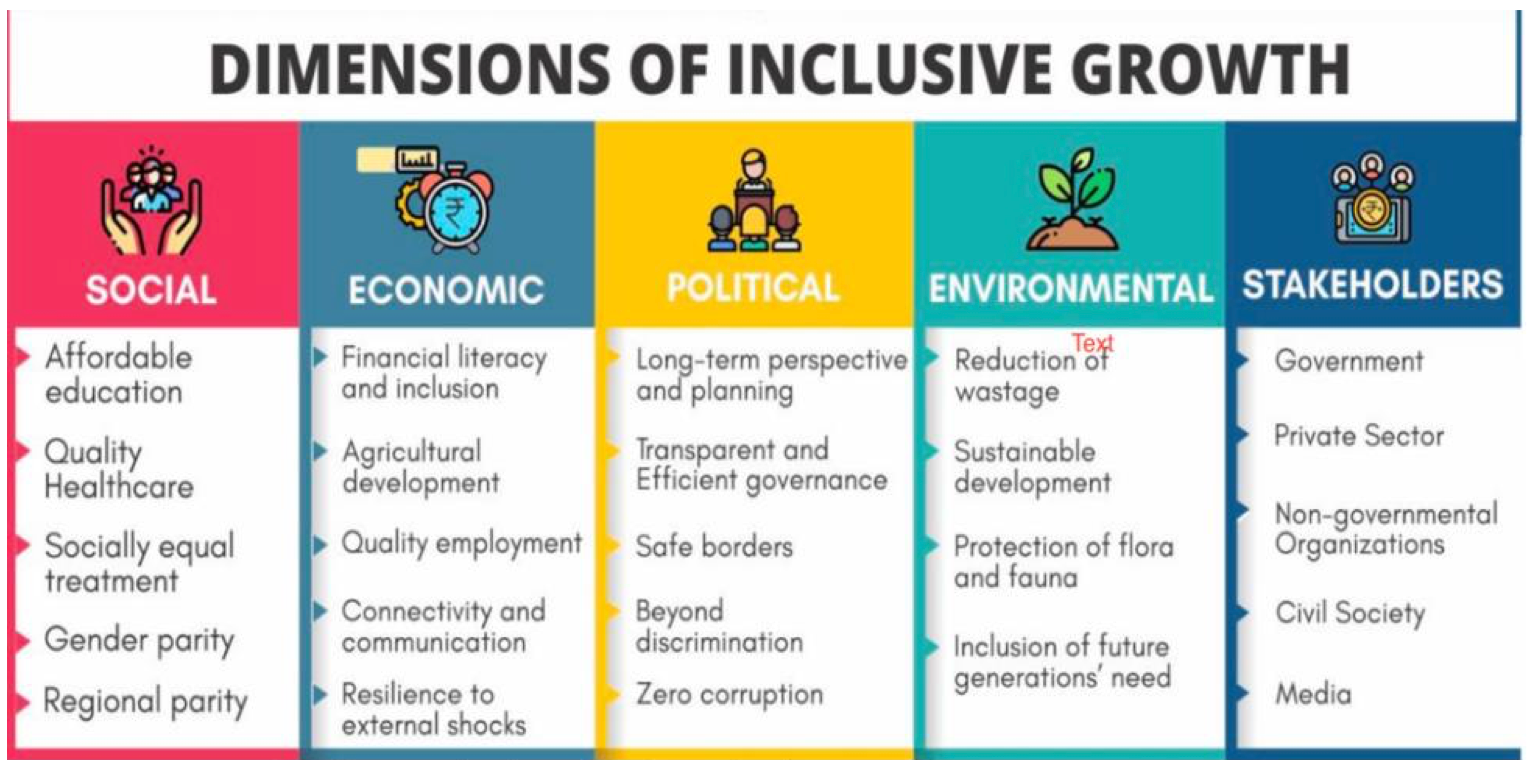 How to achieve it? (refer dimensions wali figure)
Policy reorientation:

Progressive taxation
Social spending, on public services such as education, health and social protection
Financial inclusion via Prime Mantri Jan Dhan Yojana
Eg. Pradhan Mantri Suraksha Bima Yojana, Atal Pension Yojana

Recognize the work done by women in care economy
Moving towards productive sectors
Increasing agricultural productivity
Robust labour protections
Institutional and policy support for collective bargaining
Development of underdeveloped regions
Political Empowerment of Women, weaker sections, etc.
Measures taken to achieve inclusive growth
(mention schemes, policies, etc)
Elements of Inclusive Growth
Skill Development
Financial Inclusion
Technological Advancement: in Agriculture, Health, Education, DM, Governance, Manufacturing, etc.
Economic Growth
Social Development
Challenges in Achieving Inclusive Growth:
Poverty

8.8% of the population lives in severe multidimensional poverty (Multidimensional Poverty Index, 2018)

Unemployment

5.8% Unemployment (Periodic Labour force Survey)

Agricultural backwardness

44% of people in India have agriculture-related employment but its contribution to the Indian GDP is only 16.5%

Issues with social development

India ranks 94th out of 107 countries Global Hunger Index (GHI) 2020

Regional Disparities

Goa's per capita income in 2018 was 10 times that of Bihar
Conclusion: Through strategic partnerships between various stakeholders such as Govt, international organization, civil societies, pvt sector, etc inclusive equitable growth can be achieved.
---
Get personal mentorship with crisp content!
UPSC Essential + Mentorship
It includes:
GS Basics - Complete coverage cum revision of GS Prelims subjects
GS Advance - Complete coverage of UPSC Mains
CSAT 3- Complete coverage of CSAT
Mains Test Series - 16 Tests with Evaluation
Prelims Test Series - GS (16 tests ) + CSAT (5 tests)
Current affairs coverage through weekly sessions
One to one mentorship
Bi-weekly doubts day access!
Daily Practice Questions (DPQs) based on the lecture taught.
Crisp value addition material
Check out the course
---
Previous Post