Q. Will the classes be live or recorded?
Ans. The classes will be live, with recordings of the live sessions shared with your within 48 hours. You will have 3 year access to these recordings.
---
Q. What is the duration of the course?
Ans. Duration of each course is available on respective course details page here.
---
Q. Will the Mains Tests in UPSC ESSENTIAL/UPSC BASICS Course evaluated?
Ans. Yes, you will get the evaluated copies within 10 days of submission.
---
Q. What is Saturday Doubts Day?
Ans. Doubts Day is a new initiative by UPSCprep.com. If you join ANY one of our courses, you can join doubts session held on every 1st and 3rd Saturday of the month.
Example: You join only GS Basics course but you get access to all 4 Doubt Day sessions.
Doubt Day schedule:
GS (Pre+Mains) Session (12 PM)
GS Answer Writing Session (2 PM)
CSAT Session (4 PM)
Sociology Session (6 PM)
---
Q. What is the difference between UPSC Essential and UPSC Basics Course?
Ans.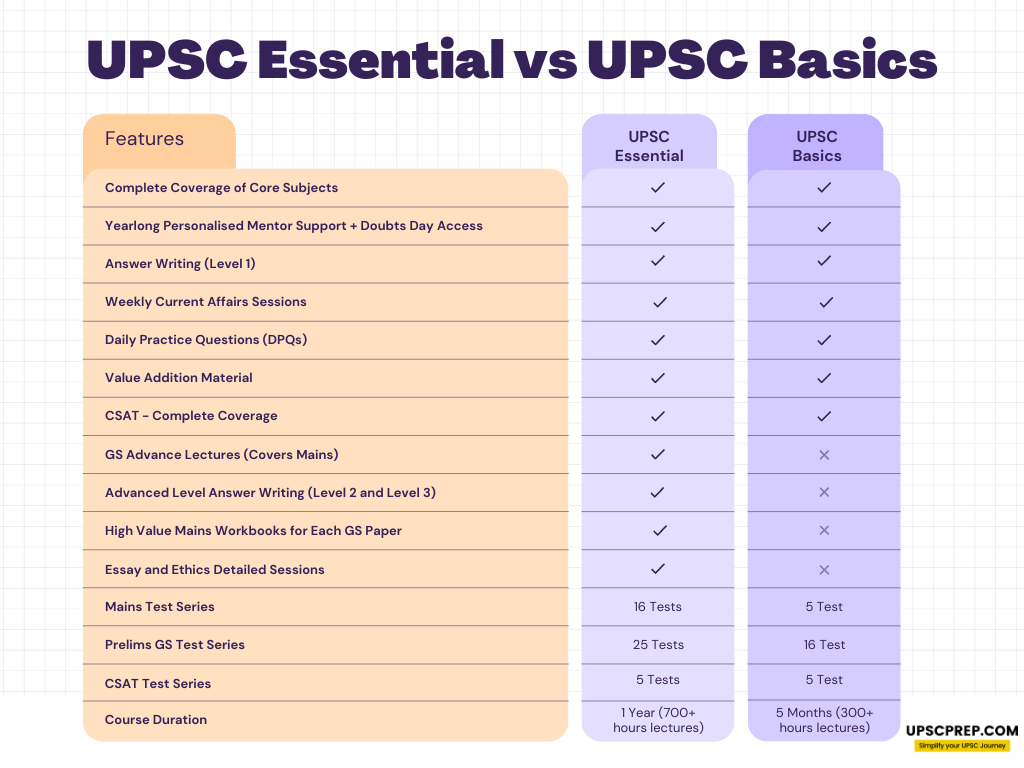 ---
Q. What will be the lecture duration and lecture timing in UPSC Essential batch?
Ans. GS and CSAT lectures will be conducted Everyday at 6:30 to 8:30 PM. Duration of the class will be 2 to 2.5 hours. Current affairs session will be conducted at 12:30 PM on every Sunday.
Previous Post