Table of contents
Introduction
The MSME sector constitutes a vast network of over 60 million units and employs 120 million people, contributing around 30 percent to the GDP. It accounts for about 45% of manufacturing output and around 40 % to total exports.
Definition of MSMEs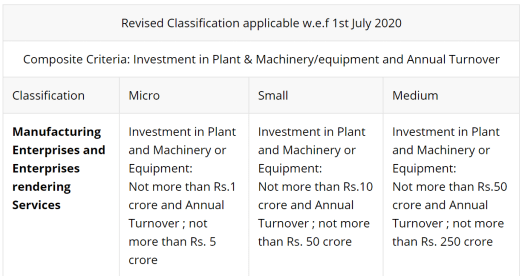 Manufacturing/Service Enterprise (Investment)
Micro: upto 1 Crore
Small: upto 10 Crore
Medium: upto 50 crore
Turnover (5 times investment)
Micro: upto 5 Crore
Small: upto 50 Crore
Medium: upto 250 Crore
Significance of MSMEs Sector
Employment generation: employs about 120 million people
MSME sector accounts for 30% of India's GDP
45% of exports
Income augmentation,
Building rural infrastructure,
Women empowerment (14% MSMEs are women led)
Promotion of traditional goods, innovation etc.
Challenges
Limited capital and knowledge
Technological Backwardness
Inadequate infrastructure facilities including access to power, water, & road
Low production capacity and constraints in modernisation & expansions which inhibits the sector to profit from 'economy of scale'
Ineffective marketing strategy
Non-availability of skilled labour at affordable cost
High competition from cheap import
Lack of adequate forward and backward linkages
Financial constraints

Poor access to formal capital: Only about 8 percent of MSMEs are served by formal credit channels.
Low financial and digital literacy
Limited funding capacity and accessibility of NBFCs and SFBs
Recent initiatives for MSMEs Sector
In-principle approval for loans up to Rs. 1 crore within 59 minutes
Interest subvention of 2%
All CPSUs to compulsorily procure through GeM portal (25% target)

4% SC/ST led MSMEs and 3% from women led

Technology Centres (TCs) and Extension Centres (ECs)
Equity infusion for MSMEs through Fund of Funds
Use of Fintech is being encouraged
MUDRA Loans
---
U. K. Sinha Committee Report
(Expert committee on MSMEs) Report by RBI. Recommendations:
Review the MSME Development Act as a comprehensive and holistic MSME code
Change definition from current investment based to turnover based
Strengthening government e-market portal.
State Finance Commission and Khadi and Village Industries Commission should redirect their focus in promoting the MSME sector
Exit policy should be their for out-of-court assistance to MSMEs
Market support to MSMEs. Eg. External service provider giving customised solutions to struggling enterprise
Improving access to technology
Setup a National Council for MSMEs to facilitate coherent policy outlook & Unity of monitoring
---
Rainbow reforms for MSMEs
Access to credit, access to market, technology upgradation, ease of doing business and a sense of security for employees are five key aspects for facilitating MSME sector.
These reforms are for both manufacturing and service sector.
Easy access to credit
loans of up to Rs 1 crore will be sanctioned in 59 minutes through a special portal as part of the Centre's Micro, Small and Medium Enterprises (MSME) Support and Outreach programme.
GST-registered MSMEs will get two per cent interest subvention
Easy access to market
public sector companies will hav to compulsorily procure 25%, instead of 20%, of their total purchases from the MSMEs.
Of the 25% procurement mandated from the MSMEs, 3% must now be reserved for women entrepreneurs
Technology Upgradation
20 tool hubs would be formed across the country, and 100 spokes in the form of tool rooms would be established.
Ease of doing business
inspections of factories in the sector will be sanctioned only through a computerised random allotment and inspectors will have to upload reports on the portal within 48 hours.
MSMEs will have to file just one annual return on eight labour laws and 10 central rules (earlier it needed to filed twice annually)
Environment clearance under Air and water act on self certificate of MSME. Only 10% industries to be inspected
Social security to employees of MSMEs
Campaign to ensure all MSMEs are covered under social security schemes.
Concerns
Risk of credit stimulus is the mis-allocation of productive economic resources
Likely deterioration in credit standards as the financial institutions are pushed to lend aggressively to MSMEs
---
Important for Prelims -
MSME Sambandh Portal - To monitor the implementation of the Public Procurement from MSEs by Central Public Sector Enterprises. (Mandatory 25% from SMEs)
Udyami Mitra Portal - To provide 'End to End' solutions not only for credit delivery but also for the host of Credit-plus services by way of hand holding support, application tracking, and multiple interfaces with stakeholders. It was launched by SIDBI. It provides a unique match making platform to MSME loan seekers, lenders as also handholding agencies.
MSME Sampark portal- To bridge gap between the Recruiters and Job Seekers.
Samadhan Portal – It enables the MSMEs to directly register their cases relating to delayed payments by Central Ministries/Departments/CPSEs/State Governments. The information on the portal will be available in public domain, thus exerting moral pressure on the defaulting organizations.
---
Previous Post