Table of contents
Also known as the Convention on Wetlands of International Importance.
What is a wetland?
A wetland is a distinct ecosystem that is flooded by water, either permanently or seasonally. Eg.  lakes, Mangroves, etc.
About Ramsar Convention
International agreement promoting the conservation and wise use of wetlands. It is the only global treaty to focus on a single ecosystem.
It was established in 1971 (2nd Feb) by UNESCO and came into force in 1975.

India signed under it on 1st February 1982.
2nd Feb: World Wetlands Day

Three Pillars

Wise Use
List of Wetlands of International Importance (gov. commitment)
International Cooperation

The inclusion of a "Ramsar Site" in the List embodies the government's commitment to take the steps necessary to ensure that its ecological character is maintained.

Important Facts
Sundarbans wetland is the largest Ramsar Site of India
Renuka Wetland in Himachal Pradesh is the smallest
Chilika Lake (Orissa) and Keoladeo National Park (Rajasthan) were recognized as the first Ramsar Sites of India
Uttar Pradesh has the most number of Ramsar Sites (7) in India.
World's First Ramsar site was identified in 1974, which was the Cobourg Peninsula in Australia.
The United Kingdom has the world's largest number of Ramsar sites.

The Montreux Record
It is register of wetland sites on the List of Wetlands of International Importance where changes in ecological character have occurred, are occurring, or are likely to occur as a result of technological developments, pollution or other human interference.It is maintained as a part of Ramsar List.
Loktak Lake (Manipur) and Keoladeo National Park (Rajasthan) are two Montreux Record sites in India
Chilika lakea dded in 1993 removed in 2002
---
Map of Ramsar Sites in India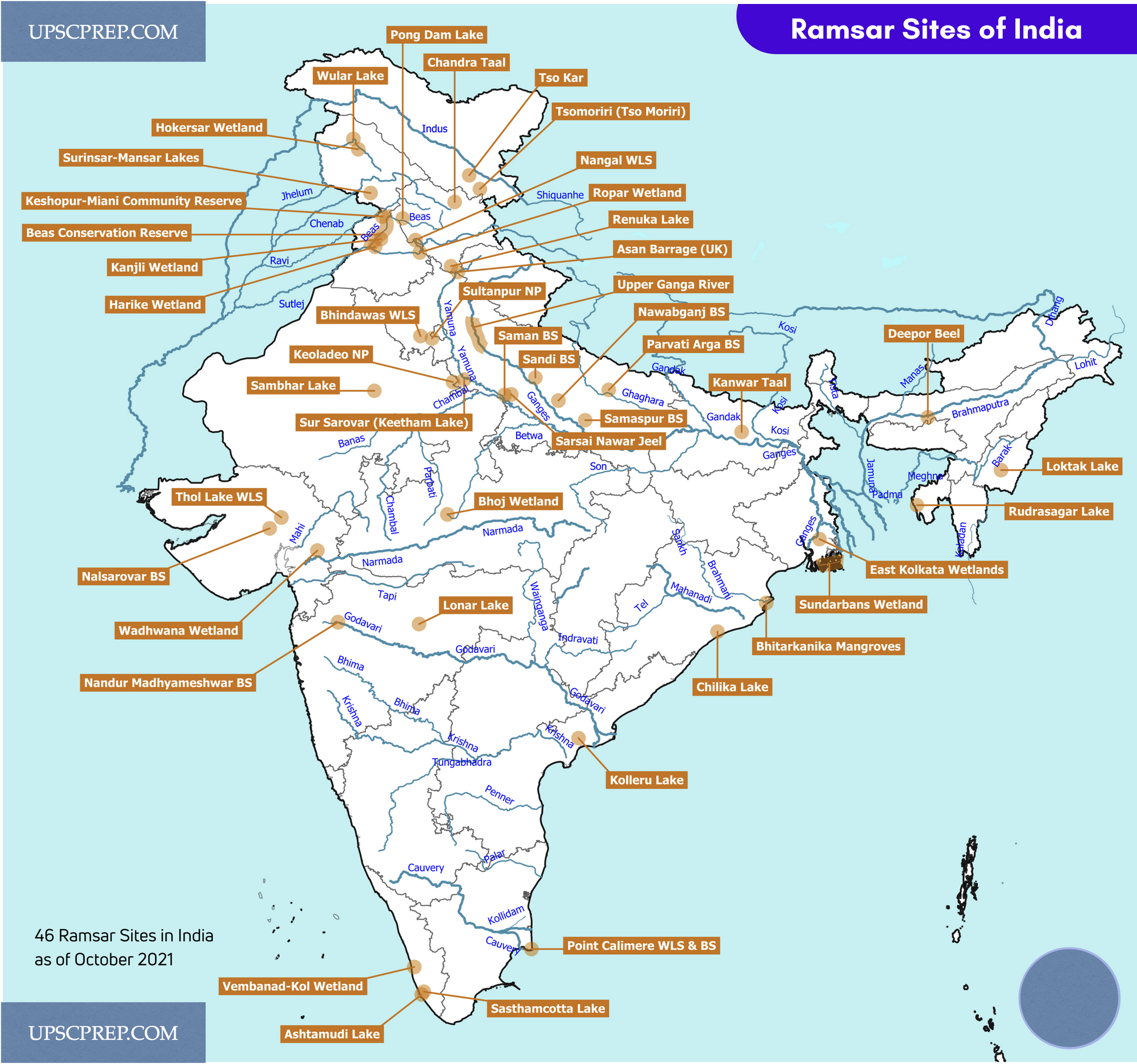 Note: Following three recently added sites are not located in above map:
Haidarpur Wetland (in Hastinapur National Park), UP
Bakhira Wildlife Sanctuary, Western UP
Khijadia Wildlife Sanctuary, Gujarat (In Gulf of Kutch)
---
The Ramsar Convention works closely with six organisations known as International Organization Partners (IOPs). These are:
Birdlife International
IUCN
International Water Management Institute (IWMI)
Wetlands International
WWF
International Wildfowl & Wetlands Trust (WWT)
---
Video Explanation
---
Check our more content for UPSC CSE
Previous Post