Week 3 - Day 1
Questions
Model Solutions
---
Check out our Essay Course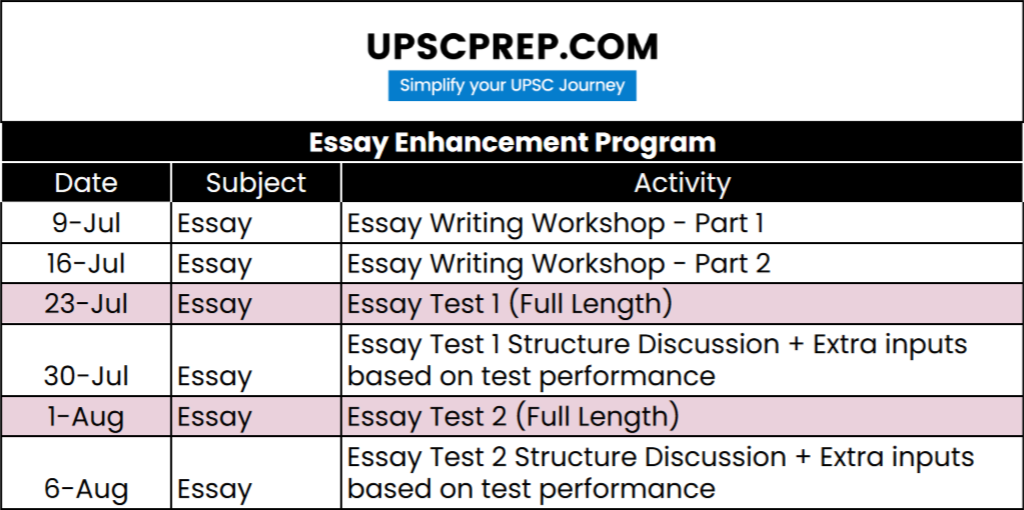 ---
1. What do you understand by the term 'participatory budgeting'? Identify the benefits and challenges associated with participatory budgeting in India. (150 words)
2. "MSMEs sector is defined as the growth engine of the Indian economy". In light of this statement, discuss the challenges and solutions pertaining to the MSMEs sector in India. (250 words)
---
Model Structure 1.
Introduction
● Participatory budgeting is a form of citizen participation in which citizens are involved in the process of deciding how public money is spent
Main Body
● Benefits of Participatory Budgeting:
○ Voice in Civic Governance: It makes citizens feel like they have a voice in civic governance and thereby builds trust.
○ It promotes a bottom-up approach, where citizens and civil society along with the relevant organs of the government and legislature.
○ Community Ownership: This would foster far greater ownership in communities for civic assets and amenities, thereby resulting in better maintenance and upkeep.
○ Facilitating Equity: Actively engaging with communities to advance equality and eliminate inequalities is integral to participatory decision-making and the allocation of public resources.
○ Increasing Trust Between Government & People
● Challenges Associated:
○ Lack of a clear action plan and operational guidelines on Participatory Budgeting hampers its effective implementation.
○ Lack of information in the public domain regarding budget accounts
○ Shortage of dedicated and trained staff for implementing Participatory Budgeting
○ Lack of attention to social inclusion in Participatory Budgeting leads to domination of participatory processes by local elites.
○ Lengthy process due to consultations with multiple stakeholders could be time-consuming and open-ended.
○ It may also lead to excessive slow fund outlays, thereby leading to under-utilization of allocated resources.
○ Thinking local, acting local as Participatory Budgeting tends to prioritize local issues and ignore regional, national or global issues.
Conclusion
● Thus, steps should be taken to strengthen the Participatory Budgeting process in India by adopting a clear framework with respect to budgeting process, manpower and citizen participation.
---
Model Structure 2.
Introduction
● The MSME sector constitutes a vast network of over 60 million units and employs 120 million people, contributing around 30 percent to the GDP.
● It accounts for about 45% of manufacturing output and around 40 % of total exports.
Model Structure
● MSMEs as growth engines of Indian Economy:
○ Employment generation: employs about 120 million people
○ MSME sector accounts for 30% of India's GDP
○ 45% of exports
○ Income augmentation,
○ Building rural infrastructure,
○ Women empowerment (14% MSMEs are women led)
○ Promotion of traditional goods, innovation etc.
● Challenges to MSMEs sector:
○ Limited capital and knowledge
○ Technological Backwardness
○ Inadequate infrastructure facilities including access to power, water, & road
○ Low production capacity and constraints in modernisation & expansions which inhibits the sector to profit from 'economy of scale'
○ Ineffective marketing strategy
○ Non-availability of skilled labour at affordable cost
○ High competition from cheap import
○ Lack of adequate forward and backward linkages
○ Financial constraints
Poor access to formal capital: Only about 8 percent of MSMEs are served by formal credit channels.
Low financial and digital literacy
Limited funding capacity and accessibility of NBFCs and SFBs
● Recent initiatives for MSME Sector
○ In-principle approval for loans up to Rs. 1 crore within 59 minutes
○ Interest subvention of 2%
○ All CPSUs to compulsorily procure through GeM portal (25% target)
4% SC/ST led MSMEs and 3% from women led
○ Technology Centres (TCs) and Extension Centres (ECs)
○ Equity infusion for MSMEs through Fund of Funds
○ Use of Fintech is being encouraged
○ MUDRA Loans
● What more can be done?
○ Review the MSME Development Act as a comprehensive and holistic MSME code
○ Change definition from current investment based to turnover based
○ Strengthening government e-market portal.
○ State Finance Commission and Khadi and Village Industries Commission should redirect their focus in promoting the MSME sector
○ Exit policy should be their for out-of-court assistance to MSMEs
○ Market support to MSMEs. Eg. External service provider giving customised solutions to struggling enterprise
○ Improving access to technology
○ Setup a National Council for MSMEs to facilitate coherent policy outlook & Unity of monitoring
○ Leveraging Industrial Revolution 4.0: Disruptive technology, while leading to job losses in traditional areas, also presents new job opportunities.
A greater connect between government-industry-academia is required to identify the changing requirements in manufacturing and prepare an employable workforce
● Global best practices
○ Competition by Cooperation, Italy
○ Contract Financing, Mexico
---
Previous Post