Questions
Why is the South-West monsoon called 'Purvaiya' (Easterly) in Bhojpur region? How has this directional seasonal wind system influenced the cultural ethos of the region?       (10)
Do you think marriage as a sacrament is losing its value in Modern India?  (10)
---
Model Solutions
1. Why is the South-West monsoon called 'Purvaiya' (Easterly) in Bhojpur region? How has this directional seasonal wind system influenced the cultural ethos of the region? 10
Model Structure
Introduction
Contextual- The South-West monsoon has a huge influence on the culture of this region which is seen in agriculture, festivals, cuisine, and other cultural significances. OR
Definition based- The South-West Monsoon is a seasonal wind pattern bringing rainfall to the Indian subcontinent originating from the southwest and moving across the Arabian Sea, covering much of India, Nepal, Bhutan, and parts of Southeast Asia.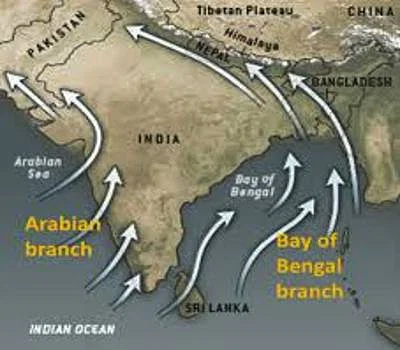 Main body
The South-West monsoon is called 'Purvaiya' (Easterly) in the Bhojpur region because of the direction from which winds enter.
As South West monsoon winds are divided into Arabian Sea and Bay of Bengal branch, the latter branch moves towards the Purvanchal Himalayas.
When these winds encounter the orographic barrier, they change direction and move in western direction as seen in the map.
Because of the direction from which they enter the Bhojpur region, they are called Purvaiya or the eastern winds.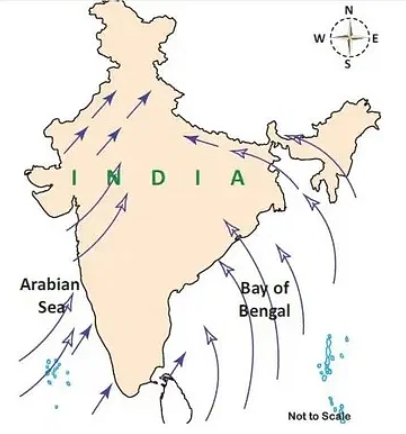 This directional seasonal wind system influenced the cultural ethos of the region in ways like-
Agricultural significance as they shape crop cycles, and agricultural festivals like Teej and Chhath Puja.
Traditional cuisine inspired by monsoon like sattu, litti chokha, and thekua.
Art and music like Madhubani painting and Bhojpuri songs depict monsoon themes.
Clothing like sarees, dhotis, and kurta-pajamas, is adapted for comfort.
Rural lifestyle like fishing, boat rides, and traditional occupations.
Flood resilience and adaptability of communities in dealing with it.
Conclusion
The South-West monsoon holds paramount importance in shaping the culture of Bihar. Its influence extends beyond agriculture, touching every facet of life, from spirituality and art to culinary traditions and festivals, creating a cultural heritage deeply rooted in the rhythms of the monsoon season.
---
2. Do you think marriage as a sacrament is losing its value in Modern India? 10
Core demand- Analyze whether the importance of marriage is reducing. Give arguments from both the sides (in favour and against). Then conclude based on the importance of the institution of marriage in Indian society.
Model Structure
Introduction
Definition based- Marriage is an important social institution. It is a relationship, which is socially approved. The relationship is defined and sanctioned by custom and law.
Data/Report- A recent report issued by the Ministry of Statistics and Programme Implementation found that the percentage share of the youth population (15-29 years) who are 'never married' has shown an increasing trend in the male population from 20.8 percent in 2011 to 26.1 percent in 2019 and a similar trend has been observed in the case of the female population
Main Body
Marriage as a sacrament is losing its value
Economic instability is haunting most of the current youth. And this specific issue got more aggravated because of the pandemic. Families with less than 10,000 monthly income are completely unwilling to get married.
Delayed marriages: The youth with higher education don't aspire to get married early.
Shift in the attitude: These days becoming a single father/mother is also not considered taboo and many consider a single lifestyle modern.
Increasing divorce rate- No more taboo & facilitated by law
Rising inter caste marriages
Secularisation of marriage rituals- for eg: court weddings
Role of Live-in relationships
Marriage as a sacrament is NOT losing its value
Religious and cultural value in Indian society
Social acceptance for eg: children born out of wedlock more acceptance
More legal protection to married couple
Role of technology i.e matrimonial sites
Conclusion
Economic development, the arrival of technology, increased materialism in life, and legislative efforts are some of the important factors responsible for generating changes in the institution of marriage but it is not diminishing.
---
UPSC Essential + Mentorship Course for UPSC CSE 2024/2025
Live Lectures with recording access for 3 years
Personalised Mentorship
Prelims/Mains/CSAT Test Series
Daily Practice Questions (DPQs)
Current Affairs Classes
Masterclass on Essay/Ethics
Answer Writing Guidance - from basics to advance
AnswerCraft: UPSC Mains Answer Writing Workbook
Crisp value addition material
Special interaction sessions with previous UPSC CSE toppers
---
Previous Post